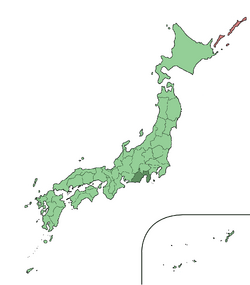 Shizuoka Prefecture (静岡県, Shizuoka-ken?) is located on the southern coast of Honshu island.
Cities, towns and villages
Edit
The following is a list of places in Shizuoka Prefecture where JETs are placed.
If your home town is not listed, please edit this section and add it to the list!
If your home town shows up as a red link, then the article does not yet exist. To create it, type the town name in the box and click "Create article".
External links
Edit
Ad blocker interference detected!
Wikia is a free-to-use site that makes money from advertising. We have a modified experience for viewers using ad blockers

Wikia is not accessible if you've made further modifications. Remove the custom ad blocker rule(s) and the page will load as expected.