Midori City is a small city located in the east of
Gunma Prefecture
with a population of about 50,000 people. It is sandwiched between
Kiryu City
, which is known as "the bread". Midori city reaches up into the mountains, giving it one rural JET placement and two "city" placements.
Transportation
Edit
Midori is connected through the Tobu line (express to Tokyo) and various JR lines (to Tokyo and Maebashi - where a shinkansen is available). Midori also boasts the famous
Watarase Rail Line
, seen in many tourists ads for Gunma. The Watarase Line links Kiryu City with Midori city and takes tourists (and residents) up into the mountains to
Nikko
in
Tochigi Prefecture
(
Ashio
station).
Because of the low train coverage in Midori city, there is a "Phone-bus" service. It is almost the same as a taxi except that it is cheaper and has limited range. If you are traveling within the city (excluding most of Azuma) or to (nearby) neighbouring destinations, then it is fine.
JETs are present in three Junior High schools, with duties in Elementary schools and Preschools as well. There are also a number of non-JET ATLs. The JET placements are:
Sightseeing
Edit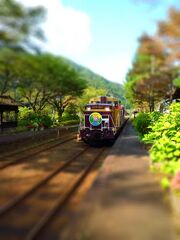 See photos of Midori city on Panoramio
Midori city features the Watarase River and the Watarase Keikoku Railway, which are famous throughout Japan. The mountains of Midori are lined with walking trails, providing many hours of exercise. There are a number of historic sites in the city, including;
Iwajuku (evidence of habitation in Japan by humans before the 10th millennium BC), and
Ne-Syaka - an important site for Japanese Buddhism
The city was founded in 2006 as a combination of several smaller towns/vilalges, but most of the villages have been around for some time. Much of the rural area is under populated when compared to previous times, due to various factors such as the closure of the Ashio Copper Mine.
External links
Edit
Ad blocker interference detected!
Wikia is a free-to-use site that makes money from advertising. We have a modified experience for viewers using ad blockers

Wikia is not accessible if you've made further modifications. Remove the custom ad blocker rule(s) and the page will load as expected.