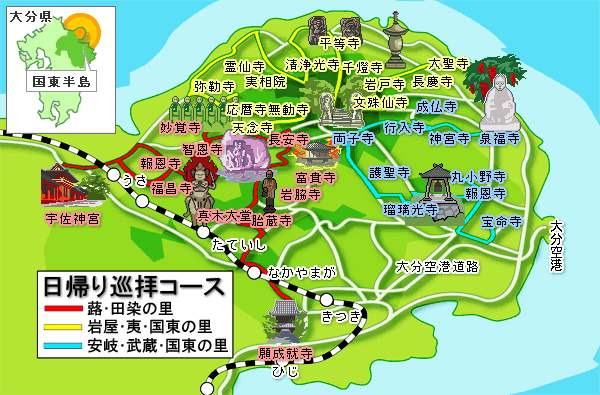 Kunisaki City is a located on the Kunisaki Peninsula. It consists of 4 small towns: Kunisaki, Musashi, Aki and Kunumi which form the Higashikunisaki District. It also includes the island of Himeshima. It has a population of roughly 43 000 people.
Transportation
Edit
Kunisaki has no train station. It is only accessible by car or by the Oita Kutsu buses. Oita airport is located in Musashi which has a limousine bus service that runs regularly between the airport and Oita.
Sightseeing
Edit
Kunisaki peninsula is well known for its dozens of temples hidden within twenty-eight ravines that extend from Mt. Futago (731 metres) at its centre. It has developed it's own unique form of Buddhism, dating back to its roots as a centre of ancient Buddhism. The Himeshima Bon Odori, or Fox dance festival is one of the highlights of the year and is held in August during Obon.
The peninsula is a rich fishing spot and the horse mackerel is the local specialty.
External links
Edit
Ad blocker interference detected!
Wikia is a free-to-use site that makes money from advertising. We have a modified experience for viewers using ad blockers

Wikia is not accessible if you've made further modifications. Remove the custom ad blocker rule(s) and the page will load as expected.