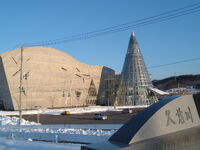 Kuji (久慈市, Kuji-shi?) is a small town located on the coast of Iwate Prefecture with a population of about 40,000 people. Most of the population live in Kuji proper, but there are many smaller villages dotting the area. Kuji is roughly 1 hour to Ninohe and 3 hours to Morioka, both by bus. It has a scenic train that goes up to Hachinohe and down to Miyako.
Kuji's claim to fame is it's uniquely-styled Amber Hall, which is supposed to represent the ocean's waves and mountains. Concerts, English Competitions, Plays, and more are held there. Kuji's sister city is Franklin, IN. They have been sister cities since October 5, 1960. There have been numerous business and municipal exchanges, as well as some student exchanges. Franklin College usually sends one or two recent graduates to Kuji to teach English in their public elementary and junior high schools as well as attend official City Hall ceremonies. Kuji also has had a sister city relationship with Klaipeda, Lithuania since 1989. Kuji and Klaipeda are both known worldwide as prominent amber-producting centers. Kuji amber is very highly regarded and quite expensive.
Transportation
Edit
Getting in
Edit
To/from the airport
Edit
Getting around
Edit
JET placements
Edit
Incoming/Outgoing JETs
Edit
Foreign community
Edit
Sightseeing
Edit
Places to visit
Edit
Festivals
Edit
Aki Matsuri (Fall Festival): Definitely something you cannot miss in Kuji. Held every September and the whole town gets involved. People build huge floats depicting Mythlogical stories and Gods and are pulled by volunteers. Many others carry shrines or dance to ask the Gods for good luck and good harvest.
Why go? The FOOD. Shops are set up on the Main Street and many of them sell typical Japanese festival food. Fried Chicken, chocolate covered bananas, cotton candy, candy apples, noodles, are just a few of the things that are offered. Reasonably priced and delicious. Plus there is beer. There is nothing like drinking a cold beer on a hot day at a festival. Plus you might run into a student or two and you can encourage them to speak a little English. Or maybe not. At the least you can practice your Japanese.
YOu may even be a participant. The city office of Kuji asks for participants to carry the shrine in the festival. Ask your office and they can probably hook you up. Its a lot of fun and afterwards everybody drinks until their kidneys drop.
Supermarkets
Edit
Shop name here, Description here
Department stores
Edit
Shop name here, Description here
Home & Garden stores
Edit
Shop name here, Description here
Book shops
Edit
Shop name here, Description here
Shop name here, Description here
Fast food
Edit
McDonald`S, (Located in the Joyful Town Shopping Complex parking lot. The complex is right next to Route 45 on the south side of town.), Description here
Mos Burger, (Located near the main street downtown. From the station, walk about 1 minute. At the large intersection, turn right. It will be on your right in a large parking lot.), Description here
Japanese food
Edit
Restaurant name here, Description here
Foreign food
Edit
Restaurant name here, Description here
Tsubohachi, Next to the station tunnel, Typical delicious izakaya found all over Japan. It's at the end of the "main" street that leads up to Amber Hall.
Nalu, A 2 minute walk from the station., Closed on Sundays. Usually open Weekdays until 12:00a.m. and 2:00 a.m. on Fridays and Saturdays.. Owned by Mabo, the coolest dude in the prefecture. He surfs, in November, naked. He's that cool.
Cafe Rockets, One minute walk on the main street from the station., Owners lived in NYC for a long time, speak great English and make the best California Rolls. Excellent Pizza, Burritos, Tacos and some Pastas are featured every night.
Cafe Siesta, The best drinks in Kuji, but also the most expensive. The awesome bartendress will make anything you want.
Service name here, Description here
Post offices
Edit
Service name here, Description here
Medical facilities
Edit
Service name here, Description here
Libraries
Edit
Service name here, Description here
Hair dressers
Edit
Service name here, Description here
Sports facilities
Edit
Kuji Taikakan (Kuji Gymnasium), (From Iwate Bank downtown, head north. Cross the Nakano Bridge. At the intersection, turn right. It's a very large building on your right.), Very good facilities. Very reasonable prices. Just buy tickets in bulk to save costs. One visit is about 3 dollars, and you have access to any part of the complex. Many sports clubs go there and practice every week. If you are interested, practice some Japanese and muster up some courage and just walk in and ask to join them. Exercise room is small but has lots of weights, machines, treadmills and a couple of bikes.
Travel agents
Edit
Service name here, Description here
Use the controls on the left to scroll and zoom around the map below.
  edit instruction

<googlemap lat="34.6" lon="133.4666667" zoom="12" zoom="13" width="660" height="500" type="map" controls="large">
34.6,133.4666667,Ibara
</googlemap>

For instructions on how to edit this Google map and add labeled marker pins, please see Help:Googlemaps.
External links
Edit
Ad blocker interference detected!
Wikia is a free-to-use site that makes money from advertising. We have a modified experience for viewers using ad blockers

Wikia is not accessible if you've made further modifications. Remove the custom ad blocker rule(s) and the page will load as expected.