Ibara
(

井原市

ibara-shi

?

)
Ibara is a small town located in the southwest corner of
Okayama Prefecture
with a population of about 43,000 people.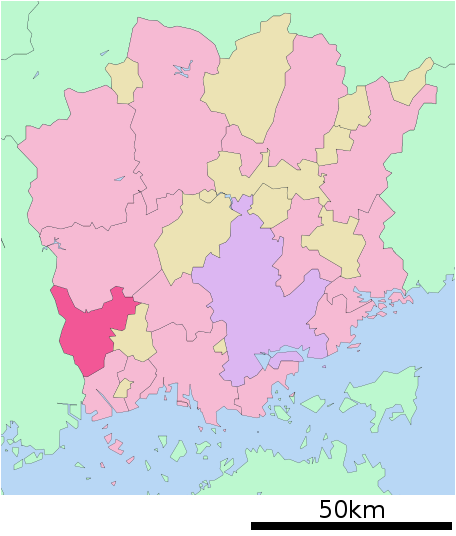 Transportation
Edit
Ibara is easily accessed by train or bus, especially for those coming from Okayama City or Fukuyama (in Hiroshima Prefecture). The Ibara Line is a private railway that runs from Soja (総社) to Kanabe (神辺). Transfers to JR West Japan lines are available from certain stops along the Ibara line. The local "Ai Ai Bus" has seven different lines that run around town to facilitate easy access. There is a flat ¥100 fee to ride any of the local bus lines. Ticket books (¥1000 for 12 tickets) can be purchased at the Ibara Bus Center or directly from an Ai Ai Bus driver. Some of the bus lines only run on certain days, making it difficult to reach the more mountainous areas of Ibara without a car or motorcycle. Additionally, one can access many major cities (Osaka, Hiroshima, Tokyo, etc.) by coach buses from the Ibara Bus Center.
Foreigners are very visible in Ibara; they comprise less than 2% of the city's total population. There are currently six JET ALTs appointed to Ibara City, covering over twenty different schools. Due to the large number of schools handled by each ALT, Ibara JETs are given desk space at the Ibara City Office.
Ibara is well known by Okayama residents as a producer of grapes. The mountain townships of Ibara, particularly Nogami, Aono, and Bisei, have large grape farms that are easy to spot during the late summer months. Agriculture is a major focus for many Ibara residents. Within the town, there are several noteworthy restaurants, including Danke, Kamon, Mugibatake, and Tonari. Those wishing to dine out should be forewarned - most restaurants in town are quite small and very popular, so making reservations is a must. Traveling outside Ibara-cho, there is a "Joyfull" family restaurant and a conveyor-belt sushi restaurant in Takaya township. For those who wish to cook at home, discount groceries can be purchased at Dio or Harrows. Dio has a smaller selection of goods, but is much cheaper. Harrows has a respectable produce section, but the prices are not quite as good. Both supermarkets are about five minutes from the City Office.
Use the controls on the left to scroll and zoom around the map below.
  edit instruction

<googlemap lat="34.6" lon="133.4666667" zoom="12" zoom="13" width="660" height="500" type="map" controls="large">
34.6,133.4666667,Ibara
</googlemap>

For instructions on how to edit this Google map and add labeled marker pins, please see Help:Googlemaps.
<googlemap lat="34.6" lon="133.4666667" zoom="12" zoom="13" width="600" height="500" type="map" controls="large"> 34.6,133.4666667,Ibara </googlemap>
External links
Edit
Ad blocker interference detected!
Wikia is a free-to-use site that makes money from advertising. We have a modified experience for viewers using ad blockers

Wikia is not accessible if you've made further modifications. Remove the custom ad blocker rule(s) and the page will load as expected.