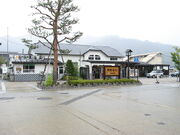 Hida
(飛騨市
Hida-shi
?
) is a city in the "Japanese Alps" in northern
Gifu Prefecture
. It received its name from the historical province of Hida Province, which was centered around the same area. The city was created in 2004 as a merger of the town of Furukawa and Kamioka and the villages of Kawai and Miyagawa. The city has total population of approximately 29,000 (2008 census)
Hida is located on the Takayama Main Line of JR Central Railroad. The cities of Takayama and Toyama are within driving distance of Hida. The area features ski slopes, hiking, and other outdoor activities.
Ad blocker interference detected!
Wikia is a free-to-use site that makes money from advertising. We have a modified experience for viewers using ad blockers

Wikia is not accessible if you've made further modifications. Remove the custom ad blocker rule(s) and the page will load as expected.