Hatsukaichi
(

廿日市市

hatsukaichi-shi

?

)
is a city located southwest of
Hiroshima Prefecture
, with a population of about 117,000 people. More of a residential suburb of Hiroshima than a city in itself, Hatsukaichi is a great place to live but does not offer much for the visitor - although, there is plenty to explore. The city of Hatsukaichi flourished as a timber port, and is famous for its wooden furniture and toys, although the latter are now mostly made in China.
Miyajima
is also a part of the Hatsukaichi municipality.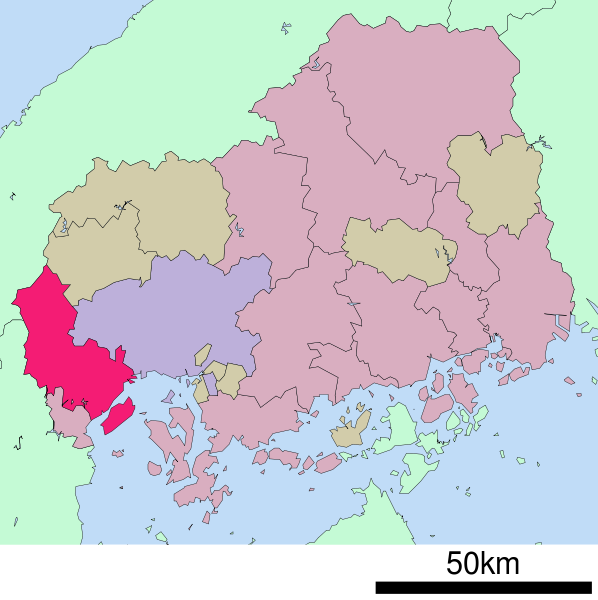 Transportation
Edit
Getting in & around
Edit
To/from the airport
Edit
Getting around
Edit
JET placements
Edit
Incoming/Outgoing JETs
Edit
Foreign community
Edit
Sightseeing
Edit
Places to visit
Edit
Jigozen Shrine - An outpost of Miyajima's Itsukushima Shrine. When Miyajima was too sacred to live on, the monks lived here. Five minute walk west of the Jigozen streetcar stop.

Gokurakuji - The name of the temple, and the mountain on which it sits atop. The main hall of the temple was rebuilt by Mori Motonari in the 16th century. The wooden bodhisattva inside is said to have been carved in the 7th century, and is an important cultural asset, but you can only see it when the hall is open for public viewing. (twice a year – in April and September). The view from the top of the mountain also makes it worth the two-hour climb, or you can always take your car!

Tenmangu - The most easily accessible shrine in the center of Hatsukaichi, just in front of Chuo Kominkan. Another good spot to view the city and its surroundings.

Tounji - Located next to Sakata Elementary, this temple contains the gravesites of many of Mori Motonari's most loyal samurai. The temple stands in a peaceful cedar grove, with rice paddies on either side of the path up to its front gate. Rumour has it that this temple and surrounding area are to be destroyed to make way for a new road and residential zone, so don't delay your visit!

Sakurapia – Located adjacent to Hatsukaichi City Hall, this auditorium and performing arts center hosts several concerts and plays throughout the year, many of them free! There are always fliers for upcoming events plastered on the walls of the streetcar stops. This building also houses the Hatsukaichi City Public Library.
Festivals
Edit
There are tons of places around this area for all different types of shopping. Here's a list of just some of the places open for business.
Supermarkets
Edit
Department stores
Edit
Alpark (アルパーク), 広島市西区草津新町2丁目, 082-501-1000, [6]. The biggest shopping mall in the Itsukaichi/Hatsukaichi area. Gap, Muji, Starbucks, Uniqlo, and Yamada Denki can all be found here. They've also just added a North Wing, which includes a movie theater, a Super Sports Xebio mega-store, and a full-sized Futaba bookstore. Alpark is awesome and eliminates the need to go all the way downtown for those living on the west side just looking to do some light shopping.
Tina Court (てぃなこーと), 廿日市市新宮1丁目9−34, Opened in 2008, right along Rt. 2, across from Hatsukaichi City Hall. A small shopping center with an Aruk supermarket, a Edion electronics store, Wants, Little Mermaid bakery, and several small restaurants.
Saty (サティ廿日市), 廿日市市地御前1-3-15, 0829-36-2521, [7]. On Rt. 2, to the South of Hatsukaichi. A department store.
Fuji Grand (フジグランナタリー), 廿日市市阿品3丁目, 0829-20-3311, [8]. A mall at Ajina, stuff for the home and a supermarket.
The Big (ザ・ビッグ宮内店), 廿日市市宮内字北山, 0829-38-1000, [9]. Super Discount store. It's really big. That is "big" on having cheap prices for food, clothing, household items, electrical appliances, etc.
Home & Garden stores
Edit
Daiki (ダイキ楽々園店), 広島市佐伯区楽々園4丁目, 082-943-0131, [10]. DIY and hardware store. The biggest is next to Madam Joy, Rakurakuen.
Nitori (ホームファッションニトリ・広島商工センター店), 広島市西区商工センター8丁目, 082-276-6700, A home furnishing store accessible by car or bicycle. Great for sheets and all those accessories you want for your house.
Electronics
Edit
Yamada Denki (ヤマダ電機テックランドアルパーク前店), 広島市西区草津新町2-23-27, 082-270-1010, [11]. Electronics superstore. We have a big one next to Alpark – no need to go to the one in town.
2nd Street (セカンドストリート五日市店), 広島市佐伯区三宅1丁目, 082-943-8670, [12]. A recycle shop 10 minutes walk from Rakurakuen.
Circle One (サークルワン), 広島市西区商工センター2丁目14−6, 082-270-0511, [13]. A big recycle shop in the Alpark area. Go here for that cheap sofa you need!
WANTS (どらぐストアウォンツ), [14]. Essential for all you bathroom and cosmetic goods. Plenty of them are around!
Japanese food
Edit
Hanamaru Udon (はなまるうどん 広島西原店), 広島市安佐南区西原9-14-1, 082-832-3870, [15]. Opened in early 2009. A great place for udon,tempura, onigiri, and oden.
Onmaku Sushi (おんまく寿司 五日市), 広島市佐伯区城山1丁目18-28, 082-922-3986, [16]. The biggest kaiten sushi restaurant in the Chugoku area. It's at the end of Coin Dori, near UNIQLO.
Omatsuri Sushi (寿し祭り 井口店), 広島市西区井口明神1-1-16, 082-270-3622, Located near Alpark, every plate is 105 yen – and not bad either.
Sukiya (すき家), 廿日市市宮内字北山, [17]. On Rt. 2, near Rakurakuen streetcar stop. Super fast and cheap gyudon.
CoCo Ichiban Curry (coco壱番屋), [18]. Great Japanese curry restaurant. There's a big one next to Tsutaya on Rt. 2 near Rakurakuen, and another located near Nishi-Hiroshima Station.
Uotora Sushi (廻転寿し魚虎 廿日市店), 廿日市市下平良2-1-22, 0829-34-3305, Another new kaiten sushi place. The menu is the same as Omatsuri. Located just behind Sakurapia, near the Popura off of Route 2.
Wara Wara (笑笑 五日市北口駅前店), 広島市佐伯区五日市駅前1-13-4, 050-5841-3161, next to Itsukaichi Station, an English menu, great selection, and cheap!
Uotami (魚民 廿日市駅前店), 廿日市市駅前4-23 , 050-5841-4412 , One at Itsukaichi Station and another just opened up at Hatsukaichi Station. A nice izakaya comparable to Wara Wara and Zawatami.
Tokugawa (徳川廿日市店), 廿日市市串戸1-8-18, (0829)32-1111, [19]. Make your own Okonomiyaki, Hiroshima or Kansai style. Downstairs from Pachinko Kokusai, just down the road from the city hall.
Sara Café (サラカフェ), 廿日市市本町4-28, 0829-32-3727, A funky café-restaurant in town. Lounge music, comfy chairs and great nouvelle-cuisine food. Located on Rte 2, down from Hatsukaichi station.
Foreign food
Edit
Roopali (インド料理ルーパリ), 広島市東区 若草町14-32, 082-264-1333, [20]. Indian food, inside the Fuji-Grand at Ajina
Ganesh (インド料理ガネーシュ), 廿日市市新宮1-9-34 ティナコート内, 0829-31-3171, [21]. One of the best Indian restaurants in Hiroshima Located in the new Tina Court shopping plaza on Rt. 2, across from Hatsukaichi City Hall.
Sagur (インド料理サーガル), 広島市佐伯区五日市中央1-2-1, 082-921-9339, Indian food at a good price, just off Coin-Dori
Paris Shokudo (巴里食堂 廿日市店 (パリショクドウ)), 廿日市市桜尾本町10-7, 0829-31-2787, A quiet restaurant with French fusion offerings. On Route 2 opposite Hatsukaichi SHS. Another behind Itsukaichi Station.
Canada-kan (カナダカン), 廿日市市地御前1-23-27, 0829-36-5551, Nothing to do with Canada, but they do have good Italian food, especially the pasta. Located on Route 2, opposite Saty.
Olive (おりーぶの木), 廿日市市地御前1-2-14, 0829-20-3668, [22]. Opposite Canada-kan. Japanese-style tables but a good fusion of food.
Akanezora (茜空), 廿日市市天神4-11, 0829-32-0444, A small izakaya that serves a couple of Korean dishes – well priced. Just off route 2, near Hatsukaichi Station.
Soulover (ソウルオーバー), 広島市佐伯区五日市4-4-31, 050-5872-5216, [23]. Our area's American diner/bar, and the place you have to go to if town seems a little far. The burgers beat Shack and Kemby's hands down, and the LocoMoco is pretty good too. Just off Coin-Dori.
Ing (イング), 廿日市市下平良1-3-34, 0829-31-1070, A swanky new place. On Route 2 next to the city hall.
Service name here, Description here
Post offices
Edit
Service name here, Description here
Medical facilities
Edit
Service name here, Description here
Libraries
Edit
Service name here, Description here
Hair dressers
Edit
Service name here, Description here
Sports facilities
Edit
Hatsukaichi Sports Center (Sun Cherry) (廿日市市スポーツセンター サンチェリー), 廿日市市串戸六丁目1番1号, 0829-31-5980, [24]. The main sports center in the area. Buy a ticket from the vending machine according to which area you want to use.
Central Sports (セントラルフィットネスクラブアルパーク), 広島市西区草津新町2-26-1アルパーク東棟5F, 082-501-1113, [25]. Located inside Alpark, this is a conveniently located private gym (membership only). Swimming pool, weights, squash courts etc. The staff is very friendly.
Community Centers
Edit
Hatsukaichi International Association (廿日市市国際交流協会事局), 廿日市市住吉二丁目2番16号, 0829-20-0116, [26]. The International Association holds free Japanese classes at local community centers.
Travel agents
Edit
Service name here, Description here
External links
Edit
Ad blocker interference detected!
Wikia is a free-to-use site that makes money from advertising. We have a modified experience for viewers using ad blockers

Wikia is not accessible if you've made further modifications. Remove the custom ad blocker rule(s) and the page will load as expected.