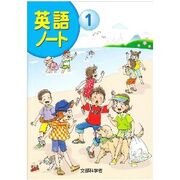 Also spelt "Eigo Noto"
This article is about the Eigo Note text books used in elementary school. The text books have become compulsory for all primary schools as of April 2011[1]. See the table below for an outline of grammar points taught.
Flashcards for the books
Edit
The official blog provides a large number of downloadable flashcards (amongst other resources):
English Translations of Lesson Plans
Edit
There are now a number of English translations floating around (see also the Akita-Ken website, Englipedia and this page from genki English). This table contains links to the translations provided by the publisher. They are all (unfortunately) Word documents:
Book 1 (Year 5)
Edit
Book 2 (Year 6)
Edit
External Links
Edit
References
Edit
Ad blocker interference detected!
Wikia is a free-to-use site that makes money from advertising. We have a modified experience for viewers using ad blockers

Wikia is not accessible if you've made further modifications. Remove the custom ad blocker rule(s) and the page will load as expected.