Niigata AJET Charity Musical
Formation
1997
Current Director (announced 2016-17)
Melusine Perrier
Number of Members
11
Current Show
TBA
Website
AJETNiigata.com/musical
The Niigata AJET Charity Musical is run by the local Niigata AJET chapter in Niigata Prefecture. Every year, ALTs volunteer to put on a show to raise money for an international charity designated by the AJET Charity Coordinator. The musical uses an original script written by the cast every year. All stage direction and choreography are done by the ALTs specifically for the show. Showtimes are usually during the winter (typically February and March), at locations throughout the prefecture.
Past Shows
Edit
2017 TBA
2016 Robin Hood
2015 The Frog Prince
2014 Sleeping Beauty
2013 Beauty and the Beast
2012 Aladdin
2011 The Shamisen Hero
2010 The Snow Queen
2009 Snow White and the Seven Samurai
2008 Alice in Japan
2007 Shohei and the Okashi Factory
2006 A Jungle Tale
2005 Peter (Ja)Pan
2004 Annie
2003
~
1997-98
In 2014, the musical performed in Aizu-Wakamatsu, Fukushima Prefecture , bringing the musical outside of Niigata Prefecture for the first time.
Notable Members
Edit
Past Directors
2015-16: Emma Bainbridge
2014-15: Courtney Merson
2013-14: Courtney Merson and Kat Truong
2012-13: Megan Kelly and Gary Furlong
2010-2012: Megan Kelly
20??-20?? Courtney Poster
Miscellaneous
Patrick Bickford, Englipedia.net founder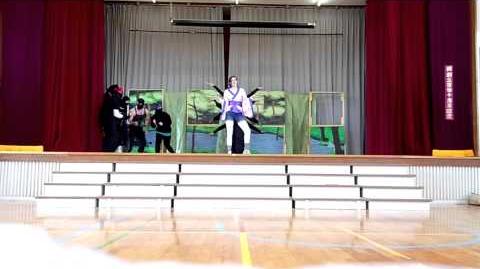 Ad blocker interference detected!
Wikia is a free-to-use site that makes money from advertising. We have a modified experience for viewers using ad blockers

Wikia is not accessible if you've made further modifications. Remove the custom ad blocker rule(s) and the page will load as expected.